Good Manufacturing Practices
GMP describes to the Good Manufacturing Practice regulations promulgated by the US Food and Drug Administration under the authority of the Federal Food, Drug, and Cosmetic Act. The GMP, also refers as cGMP, practices have the force of law that insist manufacturers, processors, and packagers of drugs, medical devices, and food to take proactive steps to ensure that their products are safe, pure, and effective.
GMP regulations require a quality approach to manufacturing that enable companies to minimize or eliminate instances of contamination, mix-ups, and errors. This protects the consumer from purchasing a product, which is not effective or even dangerous. GMP regulations address issues including record keeping, personnel qualifications, sanitation, cleanliness, equipment verification, process validation, and complaint handling. Most GMP requirements are very general and open-ended, allowing each manufacturer to decide individually how to best implement the necessary controls.
GMP have been developed by the Codex Alimentarius with the main objective of customer protection. GMP is a system for ensuring that products are consistently produced and controlled according to quality standards. It is designed to minimize the risks involved in any production activities that cannot be eliminated through testing the final product. It establishes the operational conditions and requirements necessary to ensure hygiene throughout the food chain and for the production.
To simplify this, GMP helps to ensure the consistent quality and safety of products by focusing attention on five key elements, which are often referred to as the 5 P's of GMP—people, premises, processes, products, and procedures (or paperwork).
Good Manufacturing Practices (GMP) is important to ensure that businesses produce safe products to the public. Businesses in the food industry have a legal and moral responsibility to prepare food/products those are safe for the consumer. By not implementing adequate GMP, a food business can risk several negative consequences that includes recall, seizure, fines, and imprisonment.
We at M/S Catalysts Bio Technologies Pvt. Ltd. effectively implementing GMP practices and it is evident from the certification we received from various certification bodies such as ISO 9001: 2015, FSSC 22000:2018 Ver.5, Halal, Kosher, Aditi Organics. etc after thorough audit of the production facility followed by verification of the process methodically and after meeting the successful compliances to the specified requirements.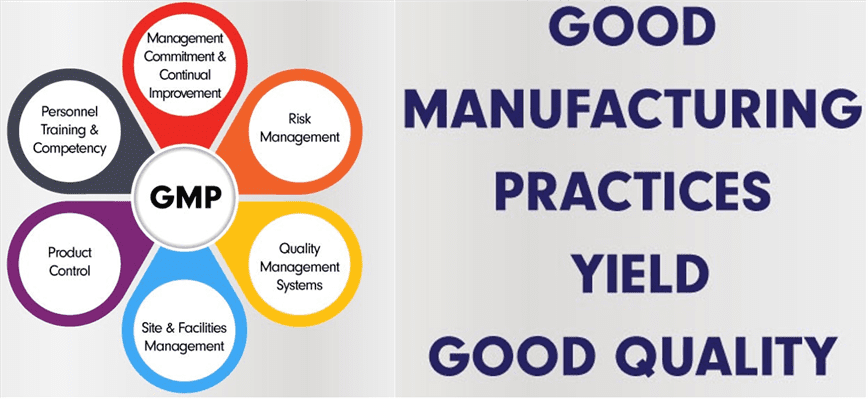 10 Golden Rules of GMP:
#1 Get the facility design right from the start so that it suits to your requirements
#2 Validate processes.
#3 Write good procedures and follow them.
#4 Identify who does what.
#5 Keep good records.
#6 Train and develop staff.
#7 Practice good hygiene.
#8 Maintain facilities and equipment
#9 Build quality into the whole product life cycle
#10 Perform regular audits to identify the gaps or improvement points